Femometer Launches, Empowering Women to Solve Fertility Issues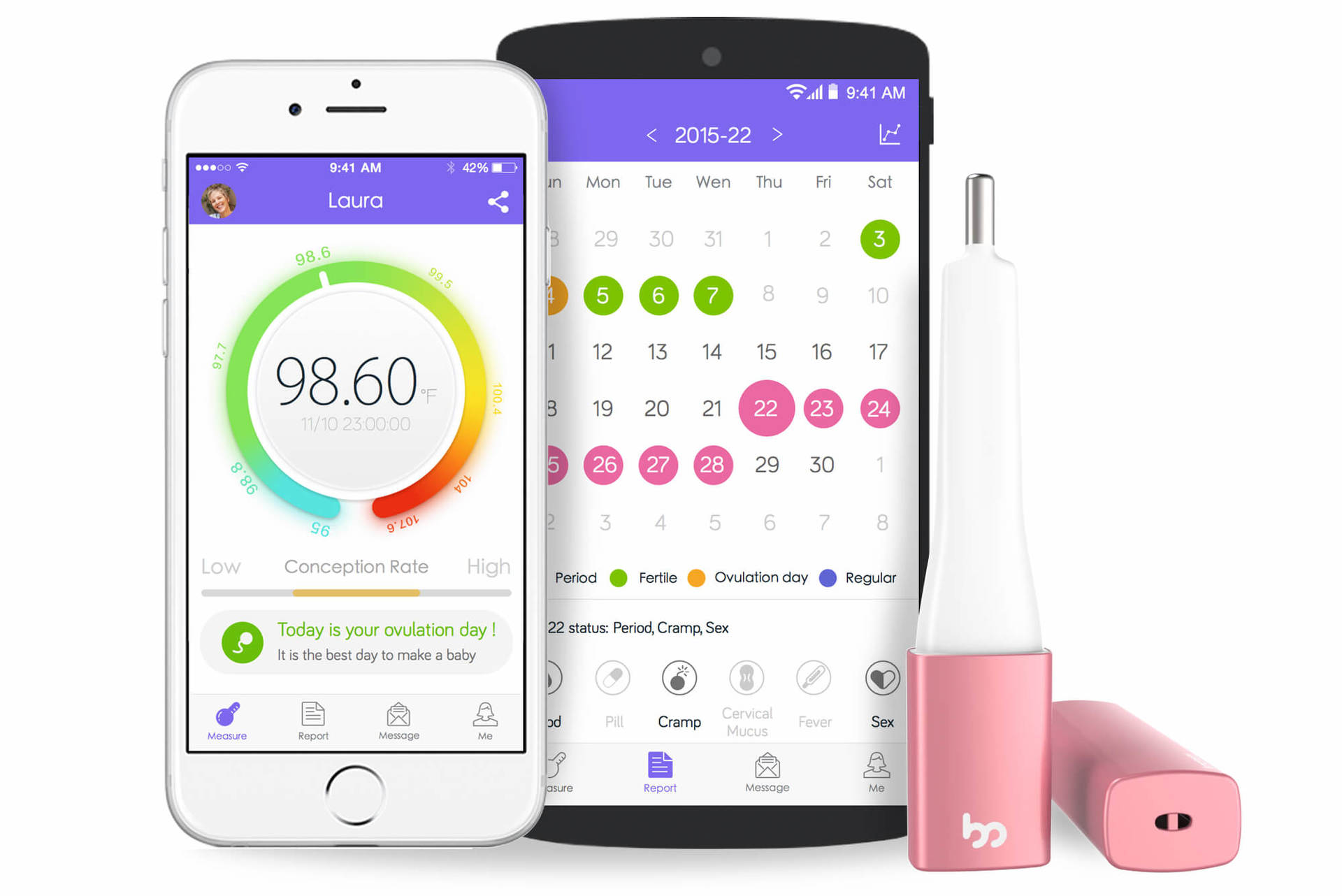 Core news facts
---
Femometer -- a smart fertility thermometer -- launched today to help women understand their reproductive cycles so they can get pregnant faster or avoid pregnancy altogether.
Developed by a man whose wife personally experienced the challenges of conceiving, Femometer was born out of trying to find a better way to get pregnant, to take the guesswork out of family planning and to monitor pregnancies more closely.
Using sophisticated data technology and in cooperation with OMRON, a top thermometer manufacturer based in Japan, Femometer tracks a woman's cycle and based on basal temperature readings, predicts ovulation -- the six-day "fertile window" when pregnancy is most likely to occur.
The Femometer companion app displays your personal data clearly with color-coded charts indicating where you are in your cycle. You can even securely share your information directly with your partner or doctor right from the app.
After 30 days of consistent use (1 cycle of data), Femometer will learn about your body's patterns. If you forget to take your temperature one day, the machine learning algorithm can predict your temperature based on previous readings. Femometer's data tracking algorithms will learn to detect and adjust for even the smallest fluctuations in your fertility cycle, ensuring more accurate readings.
There are more than 75.4 million women in the U.S. of childbearing age, and nearly all of these women are either currently pregnant, trying to conceive, using contraception or have an interest in understanding their own reproductive system. Whatever the woman's goal is, Femometer helps women better understand their bodies and empowers them to take control of their reproductive health.
By making women aware of changes in their temperature, Femometer helps women know when they can get pregnant, flags temperature spikes when a woman might be pregnant, alerts her to any irregularities during pregnancy and simply helps women -- no matter what her situation -- keep tabs on her reproductive cycle, arming her with all the information she needs to make smart decisions.
More than 300 women have tested and used Femometer in clinical trials in three maternity hospitals in China: Huzhou Maternity and Child Care Hospital, Hunan Provincial Maternity and Child Care Hospital and Zhongshan Maternity and Child Care Hospital.
Femometer is small, sleek, lightweight and discreet -- making it easy for women to use whenever and wherever.
Available in purple, pink, white, light blue and -- for a limited time -- rose gold, Femometer can be pre-ordered today at http://igg.me/at/femometer starting at $29 and will retail for $49 MSRP.
Femometer will start shipping in Q1 2016. Additionally, the app will be available for Android on Tues., 11/17. Until Femometer ships, you can manually add information (the days of your period, which days you had sex, when you took birth control, etc.) and use the app to track your cycle.
How it works
---
Femometer captures your precise basal temperature right after you wake up from deep sleep, when your body temperature is at its lowest.
Like a traditional thermometer, you leave the Femometer in your mouth under your tongue for ten seconds while it takes your temperature.
It automatically transmits the data to your smartphone via Bluetooth, recording and analyzing your information, so you don't have to worry about tracking your data.
Using a smart algorithm, the app predicts an ovulation date and tells you the likelihood of getting pregnant on any given day.
You do not need to take your temperature at the exact same time every day -- Femometer will continue to make accurate predictions by detecting the average temperature at that time based on past readings.
Whether your app is open or not, every reading is captured and stored securely in the cloud. The app will sync up to 100 days of data when it opens again.
Quotes
---
Adam Lou, co-founder & CEO, Bongmi
"Having a baby and growing your family should be a time of joy and celebration -- not one of stress, worry and anxiety. Femometer decodes what your body is doing at any time during your cycle so you are educated about the best time to try to conceive. For women that aren't looking to get pregnant, Femometer helps them understand their reproductive health so they can make more informed choices and decisions. Our goal is to empower every woman at every stage of her lifecycle with the knowledge and data she needs to live a healthier, happier life."
About Bongmi
---
Bongmi is empowering women to understand their bodies better and make more informed decisions. The company is building products that use data and technology to improve women's health, and let women learn about and understand their bodies better. The company's first product is Femometer: a smart fertility tracker. Used alongside its companion smartphone app, Femometer monitors your temperature, analyzes your data and predicts ovulation cycles. Whether you're ready to start a family, are tracking your data in order to prevent pregnancy or are currently pregnant and want to monitor your health, Femometer can help you understand your cycle and your body better.

Source: http://www.marketwired.com/press-release/femometer-launches-empowering-women-to-solve-fertility-issues-2074485.htm